Invisalign – Fort Worth, TX
The Discreet Way to Achieve Your Dream Smile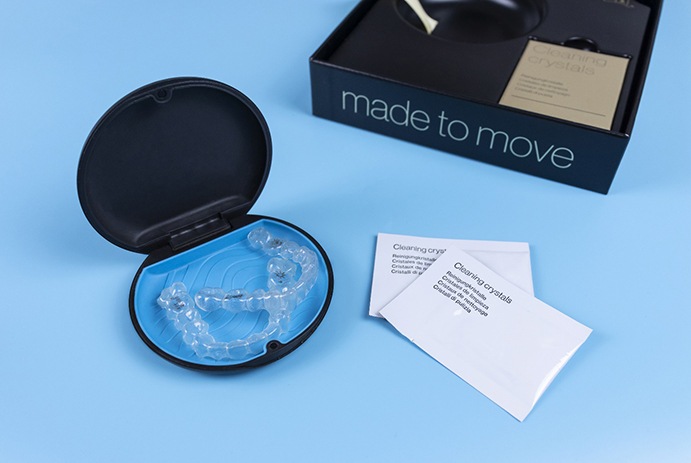 Although crooked, crowded, or gapped teeth are typically a cosmetic concern, the negative impact on your self-esteem shouldn't be dismissed. Fortunately, you can discreetly trade imperfections in your smile for straight, beautiful teeth thanks to Invisalign in Ft. Worth! Plus, they are entirely removable, hold an impressive 96% satisfaction rate, and have helped countless patients over the last two full decades achieve their dream smile. To learn more about this teeth-straightening solution or schedule your initial consultation, don't hesitate to contact our office.
Why Choose Drennan Family Dentistry for Invisalign?
Friendly & Experienced Dentist
Customized Treatment Plans for Maximum Comfort
Achieve Your Dream Smile Without the Clunky Metal
How Does Invisalign Work?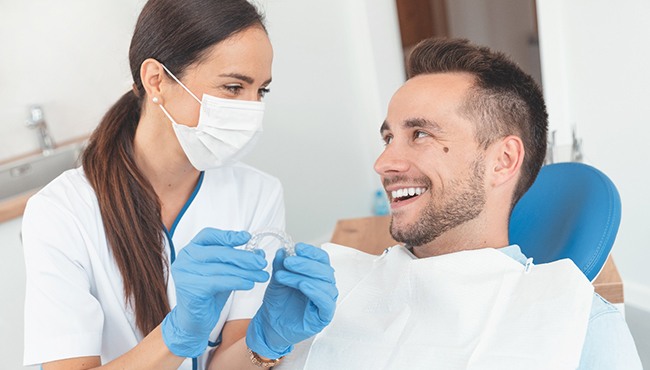 Your journey to your new and improved smile will begin with an initial consultation with Dr. Drennan. Once he has conducted a thorough dental exam and confirmed that Invisalign is the best treatment option for you, our team will take measurements, X-rays, photos, and impressions of your teeth. Each of these will serve an important role in developing your treatment with the technicians at Invisalign.
From there, your custom-made aligners are crafted to perfection and sent to our office. The rest of the process is quite simple. We will provide you with your trays for each phase of treatment, which you must wear for at least 22 hours every day. Over the next 12 to 24 months, your dentist in Ft. Worth will monitor the movement of your teeth and make sure your treatment plan is on track at your follow-up appointment every four to six weeks.
Indications for Invisalign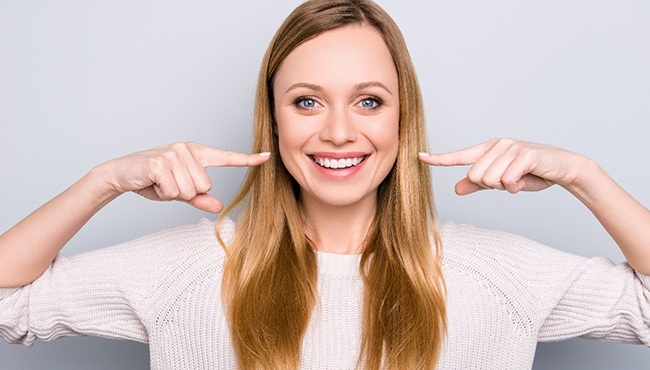 Thanks to Invisalign's effective, virtually undetectable aligners, patients can leave any of the below drawbacks behind:
Crowded Teeth
Crowded teeth can make it difficult to maintain optimal oral health simply because you cannot brush and floss adequately. Getting into the crevices where bacteria and plaque hide becomes nearly impossible. However, with Invisalign, space is created as your teeth move, allowing for a healthier and more successful approach to oral health.
Gaps Between Teeth
While crowded teeth can pose a significant problem to your smile, the same can be said for gapped teeth. When too much space exists within the mouth, bacteria can also become trapped, raising the risk of tooth decay and gum disease. With Invisalign, the clear aligners can work to bring teeth back into alignment and closer together to create a more beautiful aesthetic and healthier smile.
Bite Alignment
Overbites, underbites, crossbites, and open bites are all harmful to a person's oral health. Not only can it become embarrassing to live with this type of bite problem, but it can also lead to chronic jaw pain and worn tooth enamel. Using Invisalign clear aligners, though, we can shift your bite in a way that eliminates these risks and improves the functionality of your upper and lower arches.
The Benefits of Invisalign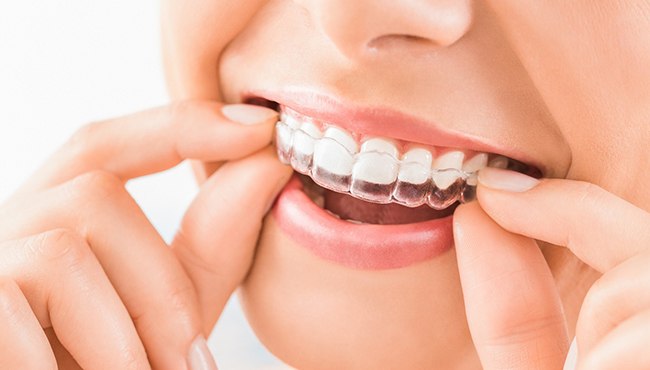 Invisalign aligners are widely known for their ability to deliver flawless results without clunky brackets and pesky metal wires. However, that's not the only reason more than 3 million patients have chosen to achieve their smile goals with Invisalign. In fact, their clear trays also:
Deliver results in an average of 12 months
Can be removed for hassle-free dining
Don't come with an extensive list of food restrictions
Allow you to stick with your oral hygiene routine
Bypass insecurities surrounding "metal mouth"
Understanding the Cost of Invisalign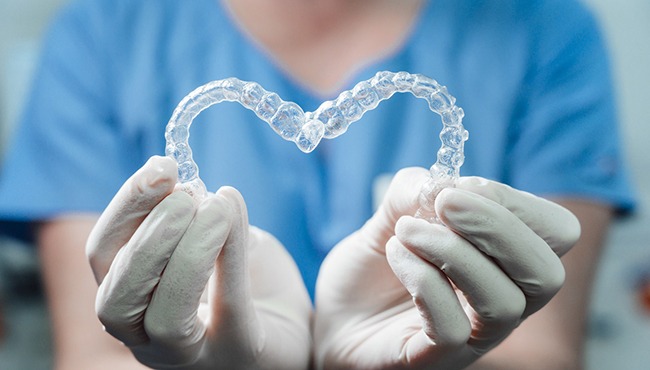 Since each patient's dental needs are unique, the answer varies from person to person. Our team at Drennan Family Dentistry can help you find out the exact cost, so you can get the smile you've always wanted without paying for anything you don't need. Simply contact our office to schedule your initial consultation. Our cosmetic dentist and fantastic staff will take it from there!
Invisalign FAQs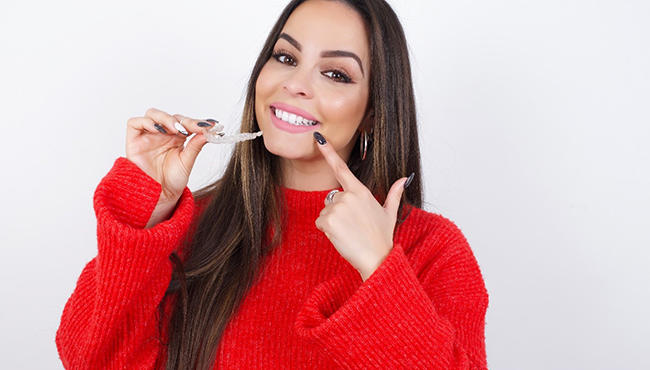 Whether you're considering orthodontic treatment for the first time, or you need to make touchups to your smile after wearing braces in the past, Invisalign offers a wide variety of uses for teens and adults alike. Considered the most popular and widely known clear aligner system today, we're happy to answer any questions you may have. Some of the most common questions we've heard over the years as well as our detailed responses can be found below.
DOES INVISALIGN HURT?
Generally speaking, Invisalign is not a painful treatment. Because of its smooth plastic design, it's actually quite comfortable compared to other orthodontic options. While there is a brief adjustment period where slight soreness and discomfort are present, it will go away soon after you begin wearing the aligners. Over the course of your treatment, you'll switch to a new set of aligners every couple of weeks. Each set is designed to push teeth into straighter positions, which is why you're experiencing soreness. Taking painkillers can help mitigate mild soreness as well as using cold compresses or drinking ice cold water.
WHAT HAPPENS AFTER INVISALIGN?
After you've worn the last pair of aligners in your series, Dr. Drennan will need to confirm your teeth have moved to the new positions as intended. From there, he can break down what your future maintenance will look like. One of the most important post-treatment steps to take is wearing your retainer, which is designed to be more comfortable than other oral appliances you may have seen in the past. We may recommend either a wire retainer or a clear plastic option that looks similar to Invisalign's clear aligners.
Retainers are crucial to keeping your teeth in their straightened positions. The last thing you want is for your teeth to move back after you've spent months dedicated to wearing Invisalign (not to mention money to pay for treatment). A retainer is essentially your ticket to enjoying a straighter smile in the long term. In most cases, you'll wear the retainers full-time for 6 to 12 months, then only when you go to bed afterward.
WHO IS A CANDIDATE FOR INVISALIGN?
There are multiple factors to consider when choosing candidates for Invisalign. One of the biggest is age as patients that are under the age of 13 are not ideal candidates. The teeth and jaw are constantly changing at a young age, which means we won't recommend treatment to anyone too young. Another factor is your ability to stay committed to wearing the aligners. If you don't think you'll be able to wear the aligners for the required 20 to 22 hours a day, you may prefer fixed braces instead. Additionally, if have a mild to moderate case of crooked, gapped, crowded, or misaligned teeth as well as minor bite problems, Invisalign is likely a reasonable option.
WHAT IF MY INVISALIGN BROKE?
In the event your Invisalign breaks, cracks, scratches, or gets damaged in some way, call our office. Hairline cracks don't necessarily mean you can't use them, but you'll need to be extra cautious when removing and placing them back into your mouth. Never try to repair aligners on your own. When you contact Dr. Drennan and our team, we'll determine if you need to have the aligners replaced outright as well as if you should revert to a previous pair in the meantime.