Veneers – Fort Worth, TX
Conceal Dental Flaws for Good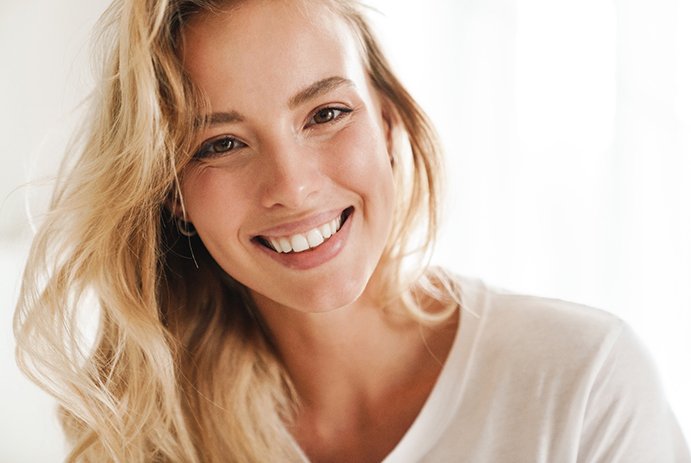 Do you struggle to smile confidently due to stains, chips, and other imperfections? You're far from alone. In fact, roughly 33% of Americans don't like their teeth either. Fortunately, that's where cosmetic dentistry solutions like veneers come in. Thanks to these thin shells of porcelain, you can conceal dental flaws for good (in as little as two appointments too!). Schedule your initial consultation today to take the next step toward your dream smile!
Why Choose Drennan Family Dentistry For Veneers?
COSMETIC DENTIST WITH 40 YEARS OF EXPERIENCE
ACHIEVE YOUR DREAM SMILE IN JUST TWO VISITS
EACH TREATMENT IS 100% CUSTOMIZED
What Are Veneers?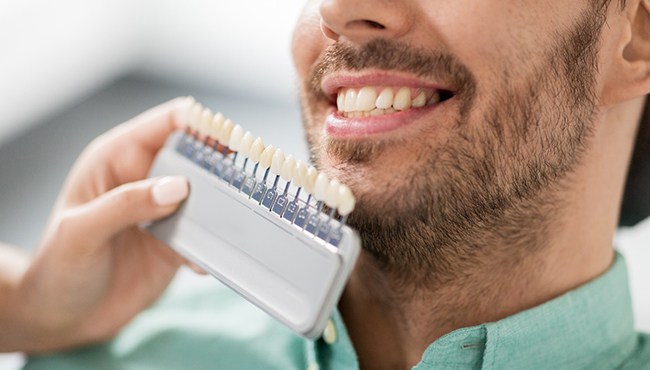 Veneers are one of the most popular cosmetic dentistry treatments available today, but what exactly are they? In short, they are thin, completely customized shells of porcelain that are designed to seamlessly fit over one or more flawed teeth. By anchoring your veneers to the front-facing portion of your teeth, our cosmetic dentist in Fort Worth can erase discoloration, chips, and even minor misalignment!
The Process of Getting Veneers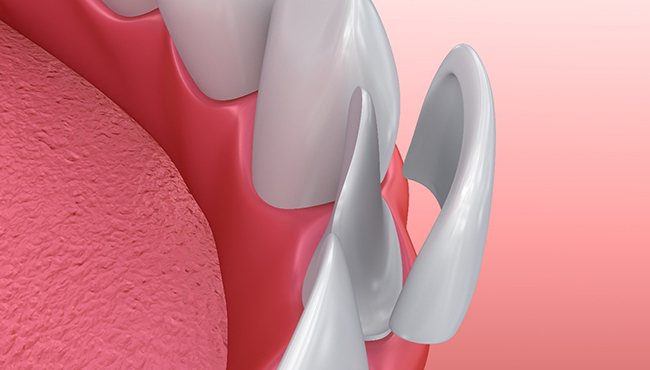 Whether you are looking to fix one tooth or undergo a complete smile makeover, the first step is always the same: schedule an initial consultation. Once we've had a chance to learn more about your smile goals and confirm you are a good candidate, we will create a personalized treatment plan. At your next appointment, we will "prep" your teeth by removing a small layer of enamel, which will ensure your veneers don't protrude or look unnatural in any way. From there, we will take impressions of your teeth and send them off to our lab artisans. While they are crafting your permanent set to perfection, we will provide you with a set of temporary veneers. Then, you will return to our office for your final appointment. After bonding your veneers in place and finishing them up with some polish, the process will be complete!
The Benefits of Veneers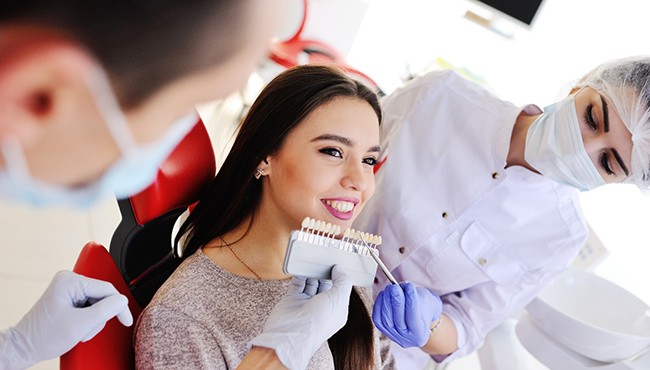 Veneers are a cosmetic dentistry solution that comes with a number of benefits, including:
Versatility – The thin shells of porcelain can fix one flawed tooth or be used to complete a smile makeover. They can also conceal discoloration, cracks, misshaped teeth, and more!
Longevity – Veneers can last 20+ years with proper care.
Low-maintenance – Implementing a solid oral hygiene routine and avoiding poor dental habits, like smoking, can keep your veneers in pristine condition throughout the years.
Natural-looking appearance – Thanks to their thin, durable makeup, veneers are extremely lifelike in look and feel. Even your closest loved ones will have a hard time determining the difference.
No food restrictions – Since veneers are crafted from high-quality materials, they don't require you to abide by a long list of food restrictions.
Does it sound like veneers are the smile-enhancing treatment you've been looking for? Then don't hesitate to get in touch with our team. We would love to help you take the next step toward your dream smile!
Understanding the Cost of Veneers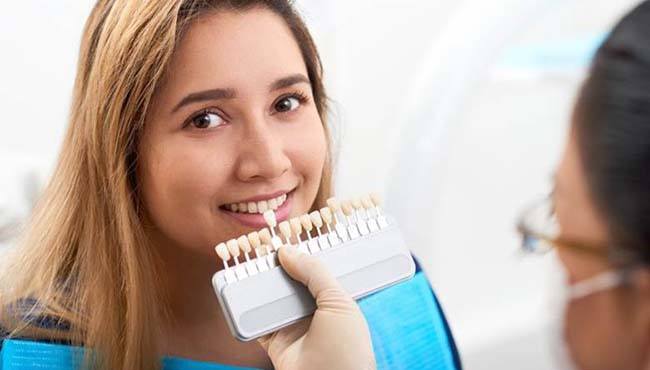 As with any major dental treatment, it's important to be aware of how much veneers cost before moving forward with the process. This makes it much easier to adjust your budget accordingly. Because every veneer is tailor-made to meet the specific needs of each patient, veneers don't come with a fixed price tag. Instead, we'll need to go over the factors affecting your treatment costs when you visit us for a consultation. In the meantime, you can find some helpful information below regarding the cost of veneers in Fort Worth.
What's the Right Cosmetic Dentistry Treatment for Me?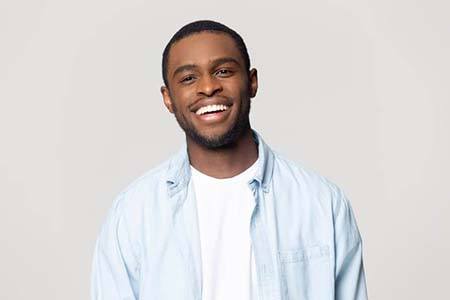 These days, there are more ways to transform your smile than ever before thanks to advancements in cosmetic dentistry. For this reason, we recommend that you review all of your options before making a final decision. Each of these treatments comes at a different price point and can accomplish different things in terms of your smile's appearance. Here's a basic idea of what you can expect with some of the most popular options:
Teeth whitening – With our professional-strength teeth whitening treatment, we can remove several years' worth of deep-set stains and leave you with a dazzlingly bright smile. Plus, teeth whitening is one of the more affordable cosmetic dentistry services we provide. However, the results only last for a year or two at most, and it won't change the size, shape, or positions of your teeth – just their color.
Invisalign – If crooked or gapped teeth are your main reason for seeking cosmetic dentistry, you may have considered Invisalign clear aligners. Although these see-through trays are less cumbersome than traditional braces, they can still cost several thousand dollars, and they often take more than a year to finish delivering results. Like teeth whitening, Invisalign is also limited in terms of the problems it can fix; it can only change the alignment of your teeth, not their color, shape, size, etc.
Cosmetic dental bonding – Bonding uses composite resin to fix minor chips, cracks, stains, or gaps, often in a single appointment. While this treatment tends to cost much less than veneers, it only works for small flaws, and the results will need to be redone every five years on average.
Veneers – While veneers are certainly not the cheapest option, they're absolutely worth their weight in gold. They're versatile enough to correct practically every aesthetic flaw your smile could have, they only take two appointments to place, and they can last for 20+ years if you take good care of them. If you truly want to give your pearly whites the Hollywood treatment, then veneers are an investment worth making!
How to Make Veneers Affordable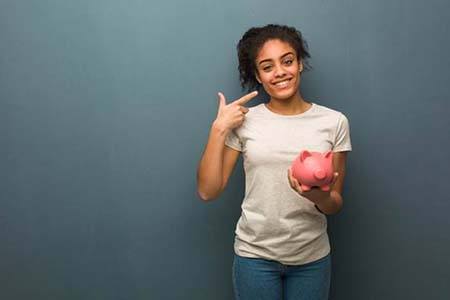 Since veneers are a type of cosmetic dentistry, insurance will rarely cover them. However, there may be exceptions. For example, some plans may provide partial coverage if the treatment is also restorative in nature, such as if you're getting a veneer to fix a chipped tooth. Our team can gladly go over your insurance benefits to make sure you're getting all of the benefits that you qualify for.
Other than dental insurance, our practice also accepts traditional payment methods such as cash, checks, and credit cards, as well as Flexible Spending Accounts and Health Savings Accounts. Instead of having to pay the entire price up front, we'll do our utmost to come up with a payment schedule that fits into your budget.
Veneers FAQs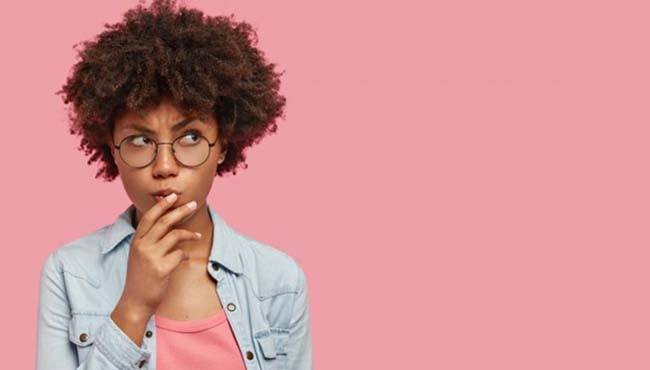 Veneers in Fort Worth are one of the most popular and comprehensive ways to conceal dental flaws for good. Whether you have one minor imperfection you'd like to change or you're interested in redesigning your entire smile, we can create a veneer treatment plan to help you achieve the results you're looking for. While we'll be more than happy to answer all your questions personally when you come see us for a consultation, we've gathered some common veneer FAQs we get below so you can learn more. Give us a call if you'd like to learn more or schedule your next appointment!
What Can Veneers Fix?
Veneers are incredibly versatile and can help you overcome practically any minor cosmetic flaw in your teeth. You can choose to get one, several, or many veneers depending on how much of your smile you'd like to improve. Oftentimes, veneers are used to conceal issues like:
Minor chips and cracks
Stubborn stains or patches of discoloration
Small spaces or gaps between the teeth
Teeth that are naturally misshapen or small
Teeth that are worn-down or uneven
How Many Veneers Will I Need?
Each veneer is custom made, so you can get as many or as few veneers as you'd like. That being said, we often recommend getting an even number of veneers. Placing veneers on the front two, four, six, or eight teeth commonly provides the most seamless and beautiful results, but every case is different. When you visit us for your consultation, your trusted Fort Worth cosmetic dentist will help you discover how many veneers you will need to achieve the results you're looking for.
Are Veneers Reversible?
Veneers are strong and durable. With the proper care, they often will last 20 years or more! However, when considering this procedure, it is important to keep in mind that the process is not reversible. Once a tooth has been prepared, it will always need to be covered with a beautiful veneer. If you're interested in veneers but aren't positive that they are the right choice for you, you may be interested in Lumineers. This cosmetic treatment is very similar to veneers, except that it is reversible.
How Long Does It Take to Get Veneers?
Getting veneers is a quick and easy process that typically only requires two appointments over the course of a few weeks. Between your first and last veneer appointment, we'll fit you with temporary veneers. Not only will these protect your teeth from sensitivity, but they give you a chance to "test-drive" your new smile beforehand! It should only take about two weeks for your permanent veneers to be crafted, and then you'll return to our office to have them placed.