Dental Implants – Fort Worth, TX
A Lifelong Investment In Your Quality of Life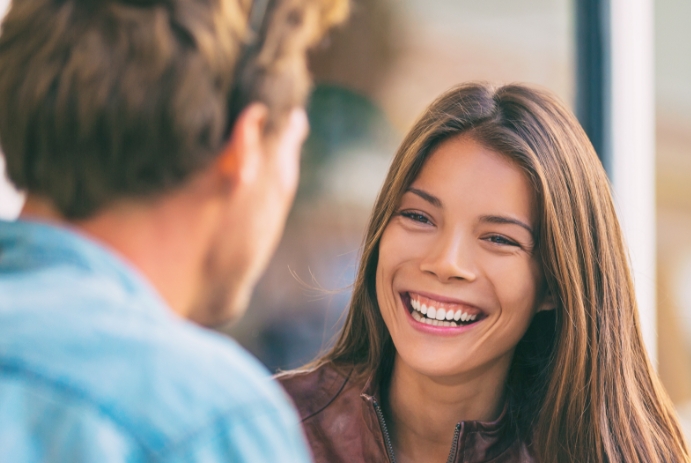 Do you suffer from missing either one tooth or an entire arch? This problem can impact your day-to-day life by making it difficult to easily speak and chew food, leaving your confidence diminished. At Drennan Family Dentistry, we work closely with a network of specialists to provide dental implants for our Fort Worth, TX dental patients to restore the entire structure of your missing teeth from the ground up. The best way to learn whether you're a good candidate for this advanced procedure is to contact our dental office to schedule a consultation today!
Why Choose Drennan Family Dentistry
for Dental Implants?
Replace One or All Missing Teeth
Natural-Looking Restorations
All-On-4 Dental Implants Available
What is a Dental Implant?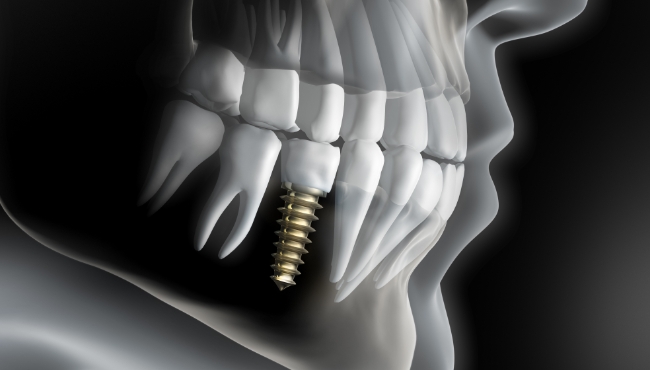 A dental implant is a titanium post that is surgically placed below your gumline to act as the new root of your missing tooth. The metal is biocompatible, so as you heal from your surgery, it will naturally begin a process called osseointegration, where it will fuse with your jawbone, continuing to provide it with necessary blood flow. Following your healing period, we will secure an abutment to the end of the implant, which will hold your permanent restoration in place.
Benefits of Dental Implants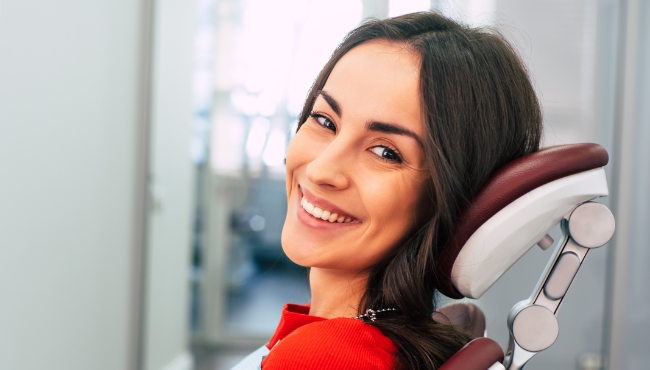 If you need an effective tooth replacement option, then dental implants are one of the best treatments out there. They provide the ultimate support for patients who are missing one, several, or even an entire arch of teeth. By embedding titanium posts directly into your jawbone, our team can provide you with many benefits that you won't get with other restorations, like dentures and dental bridges. Keep reading or schedule a consultation with us today if you'd like to know more about the lifelong benefits of dental implants in Fort Worth!
Day-to-Day Benefits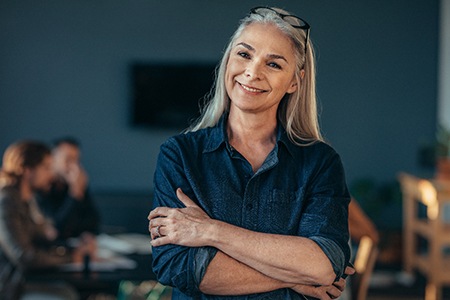 We use our teeth for various things throughout the day such as eating, speaking, and smiling. With dental implants, you'll have a tooth-replacement solution that won't limit your daily oral habits. You can expect to enjoy the following day-to-day benefits:
Restored ability to eat most foods: Dental implants are uniquely designed to replace an entire missing tooth from the root up. They're also significantly more stable than dentures or bridges, meaning they can withstand the excessive pressure from chewing.
Easy maintenance: Your dental implants will look and feel like your natural pearly whites, and they won't require any special care to preserve them. You'll simply have to maintain good dental hygiene and visit your dentist routinely to ensure your new smile stays healthy.
Improved confidence: After your dental implants are successfully bonded to your jawbone, they'll serve as your new permanent teeth! You can feel more confident when eating, talking, and smiling in the long run.
Health Benefits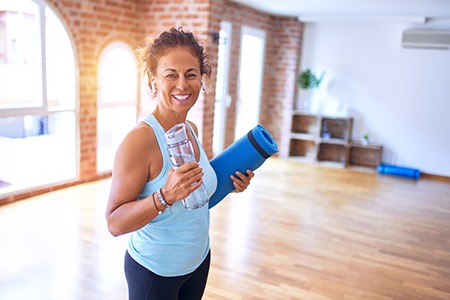 Not only do dental implants enhance the appearance of your smile, but they also offer several health benefits that you can appreciate for a lifetime. These advantages include:
Enhanced stability: By anchoring your restorations directly to your jawbone, your dental implants can provide the necessary stability for chewing most foods. You'll be able to munch on all your favorite meals with ease!
Preserves the jawbone: Dental implants serve as your new roots, which stimulate healthy jawbone tissue. This will preserve your facial structure and help avoid bone loss in the process.
Boosts overall health: Having missing teeth can increase your risk of further tooth loss as well as other serious health issues. Replacing your pearly whites with dental implants means you can effectively maintain your smile while preventing problems like diabetes, gum disease, and heart disease.
Long-Term Benefits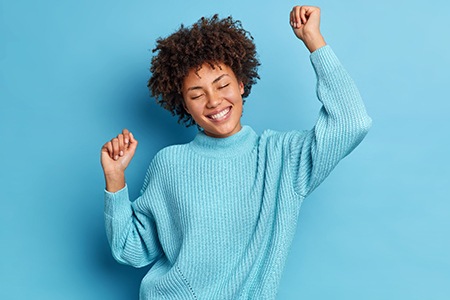 You can also expect to enjoy the following long-term benefits by choosing to get dental implants in Fort Worth:
High success rate: About 95% of dental implant procedures are successful, even 20 years after being placed in the jawbone.
Extended longevity: Dental implants can last several decades without the need for replacements. For this reason, they're considered one of the most permanent options for missing teeth.
Youthful appearance: By serving as your new roots, dental implants will stimulate your jawbone and avoid facial changes that can cause a shrunken or aged appearance. You'll be able to enjoy a stronger and more youthful smile for many years to come!
Indications of Dental Implants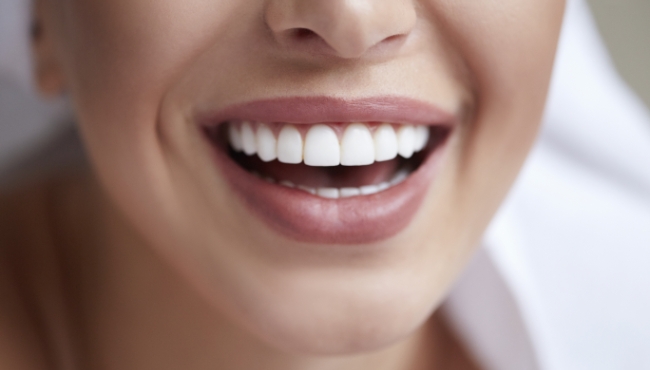 Dental implants have the ability to help patients in a variety of unique situations, but some patients may require preparatory procedures before they can carry on with their implant placement. When Dr. Drennan examines your mouth, he'll be able to create a customized treatment timeline for you and walk you through it so you know exactly what to expect.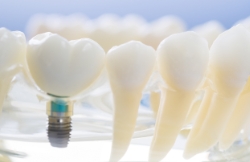 Missing One Tooth
If you're missing a single tooth, we'll place one dental implant in the gap of your smile and wait for your gums to heal around it. Then, we'll secure an abutment and a custom-crafted dental crown that's created to match your surrounding teeth, making it virtually impossible to tell that you ever had a gap there in the first place.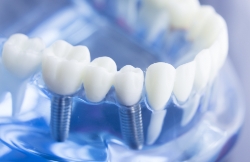 Missing Multiple Teeth
If you're missing several consecutive teeth, or if you have gaps spread out through your entire arch, we can use an implant-retained bridge or partial denture to replace them. Depending on the restoration used, we can attach them to two or more dental implants to complete your smile.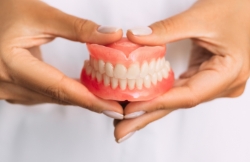 Missing All of Your Teeth
For our patients who are missing all of their teeth, we'll likely place anywhere from four to eight dental implants along an arch of your teeth to secure your customized denture and continue providing your jawbone with stimulation. Because they don't rely on natural suction to stay in place, you won't have to worry about any slipping or shifting, like you may with traditional dentures.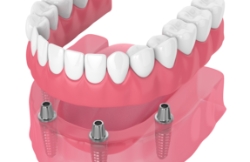 All-on-4/ Teeth-in-a-Day
Our patients who are ready to begin enjoying their smile as soon as possible can benefit from our All-on-4 procedure. This streamlined process eliminates the need to spend months without your restorations by providing you with a denture immediately after your implant surgery and replacing it with your permanent one once your gums have completely healed.
Partners with the Best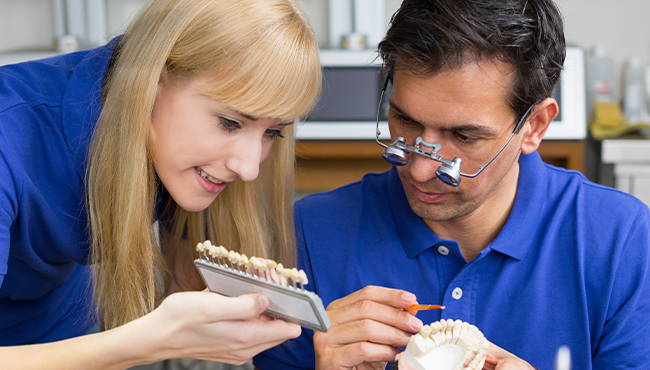 All of our dental implant patients will have their new roots surgically placed by a local specialist in order to ensure a comfortable experience and successful outcome. Our specialists have performed the procedure literally thousands of times, and we trust them to give our patient's restorations the strong foundation they need to last for decades to come. After your mouth has healed, you'll return to our dental office to have your crown, bridge, or denture attached to your posts.
Cost of Treating Dental Implants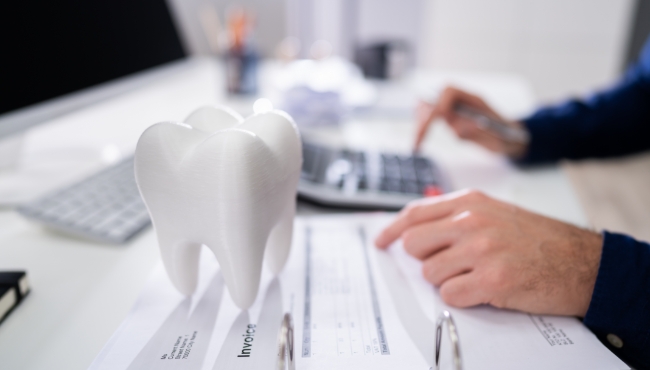 Because the dental implant procedure is customized to fit each of our patients' unique needs, we're only able to determine the cost of your treatment is by examining your mouth. Once we do this, we'll be able to determine several factors that we use to calculate the cost. A great benefit about dental implants is that, although they have a higher overall cost, they're easier to financially plan for because it can be split up over the course of several separate appointments.
Dental Implants FAQs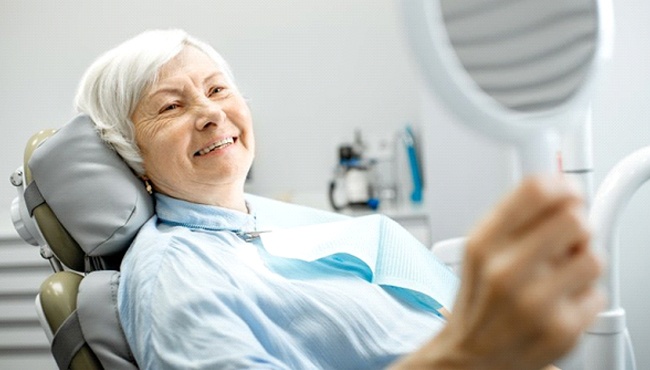 Whether you're missing only one pearly white or a whole mouthful, dental implants in Ft. Worth are by far the most comprehensive and beneficial method of rebuilding your smile after you've suffered from tooth loss. As they've become more popular in recent years, however, more questions and concerns about the treatment are cropping up. To make the process easier for you, your implant dentist has answered a few frequently asked questions about dental implants in the section below.
Can Dental Implants Replace Front Teeth?
Absolutely! Dental implants can be used to replace lost teeth no matter where in the mouth they were located. Each implant is topped with a lifelike restoration. Whether yours is a crown, bridge, or denture, it will be designed with the rest of your smile in mind. Impressions are taken of any of your remaining teeth, and we'll take several other aspects of your appearance into account, such as your skin tone, age, and face shape, when creating your restoration. Once your new teeth have been placed, the only people who should be able to tell that they're not natural are the members of our dental team!
Does Dental Insurance Cover the Cost of Implants?
Unfortunately, many dental insurance carriers consider implants to be a purely cosmetic procedure, so they don't often cover the cost. The good news, however, is that more and more insurance companies are beginning to realize the oral health benefits of dental implants and are starting to offer coverage. Our practice is happy to accept many different forms of dental insurance. We will even gladly handle the paperwork for you and assist you in maximizing whatever benefits you may have available.
It's also worth mentioning that even if your insurance won't pay for the implants themselves, it may mitigate the cost of other aspects of the treatment, such as your restoration or any preliminary procedures you might require.
How Long Does the Dental Implant Process Take?
Getting dental implants can take anywhere from a few months to a year or even longer. The length of the process varies from patient to patient because everyone has different oral health needs. Some patients require preparatory work, such as bone grafting or gum disease treatment, before implants can be placed. This can add several weeks or months to your total treatment time. Additionally, it takes an average of three to six months for the implant posts to fuse with your jawbone before we can place the restoration. During your consultation, we can lay out a more detailed, personalized treatment timeline for you.
I Currently Have a Denture. Can It Be Combined with Dental Implants?
While the denture itself will not be combined with implants, we can provide you with a new and improved denture that will be held in place with these titanium posts. This provides a sturdy foundation for your new teeth, preventing the embarrassing slipping and gum irritation that are common with traditional dentures. Plus, implant-retained dentures last longer and are generally easier to maintain. If you're dissatisfied with your current denture, call us today and ask if an implant-supported denture is right for you!