Dental Implants – Fort Worth, TX
A Lifelong Investment In Your Quality of Life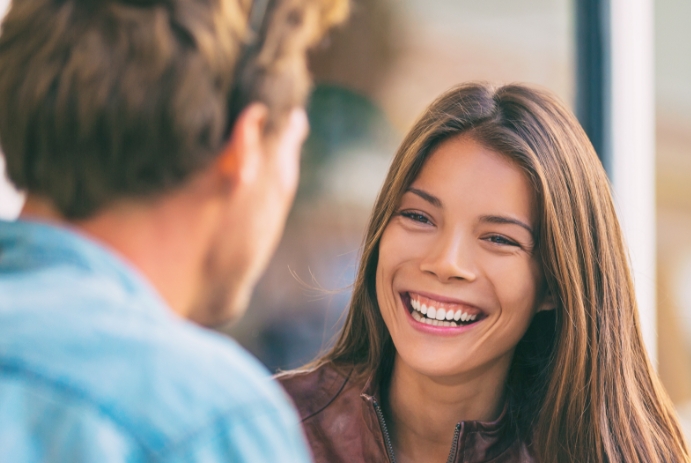 Do you suffer from missing either one tooth or an entire arch? This problem can impact your day-to-day life by making it difficult to easily speak and chew food, leaving your confidence diminished. At Drennan Family Dentistry, we work closely with a network of specialists to provide dental implants for our Fort Worth, TX dental patients to restore the entire structure of your missing teeth from the ground up. The best way to learn whether you're a good candidate for this advanced procedure is to contact our dental office to schedule a consultation today!
Why Choose Drennan Family Dentistry
for Dental Implants?
Replace One or All Missing Teeth
Natural-Looking Restorations
All-On-4 Dental Implants Available
What is a Dental Implant?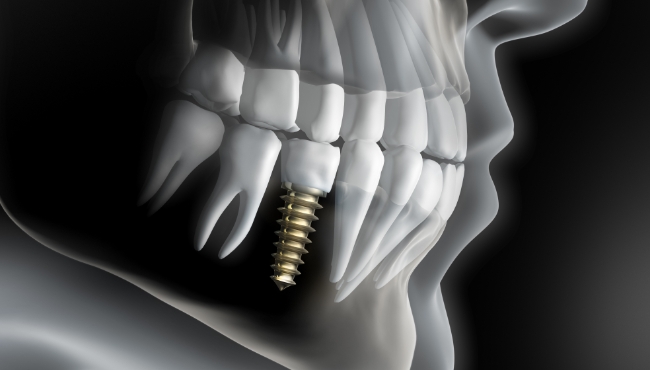 A dental implant is a titanium post that is surgically placed below your gumline to act as the new root of your missing tooth. The metal is biocompatible, so as you heal from your surgery, it will naturally begin a process called osseointegration, where it will fuse with your jawbone, continuing to provide it with necessary blood flow. Following your healing period, we will secure an abutment to the end of the implant, which will hold your permanent restoration in place.
The 4 Step Dental Implant Process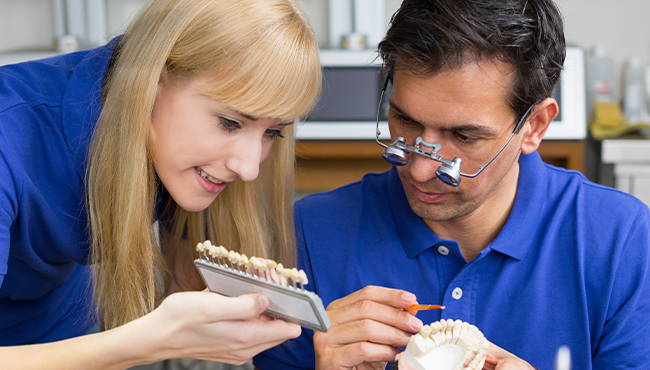 Dental implants are the only treatment able to replace both the root and crown of a tooth. Unlike dentures and dental bridges, this method requires a multi-step process that can take several months to complete. It may sound like a long time, but trust us – it's well worth the effort! With dental implants, you can enjoy a newly rebuilt smile that functions just like natural teeth. Although every patient's journey will look slightly different, here are the four main steps you can expect.
Initial Dental Implant Consultation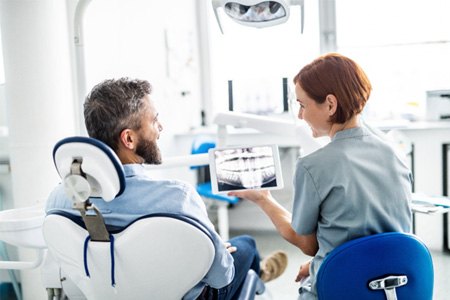 First, you'll have a consultation with our team at Drennan Family Dentistry to ensure dental implants are right for you. We'll examine your smile and surrounding facial structures to determine if this is the best solution to your tooth loss. Depending on the state of your oral health, you may need to undergo certain preliminary procedures to prepare for dental implant treatment. Rest assured – we'll walk you through the process so you know what to expect every step of the way.
After examining your mouth and learning more about your goals, your dentist will create a personalized treatment plan. While every situation differs, the cost of replacing missing teeth often includes:
Preliminary Treatments: Besides your consultation and any diagnostic imaging, it's not unusual to need a little prep work, like tooth extractions or gum disease therapy.
The Number of Teeth and Arches: The number of teeth you're replacing will determine the type of denture you need, like a partial or full. Treating 1 or 2 arches will also affect the cost.
Materials Used: Discounted materials cost less, but they can be of low quality that can compromise the fit, durability, and aesthetics of your dentures. It's better to choose quality materials to ensure your investment lasts.
Dental Implant Surgery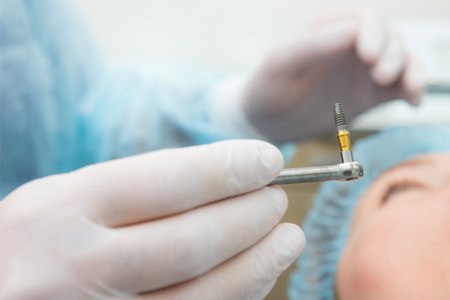 All of our dental implant patients will have their new roots surgically placed by a local specialist in order to ensure a comfortable experience and successful outcome. Our specialists have performed the procedure literally thousands of times, and we trust them to give our patient's restorations the strong foundation they need to last for decades to come.
Dental Implant Osseointegration & Abutment Placement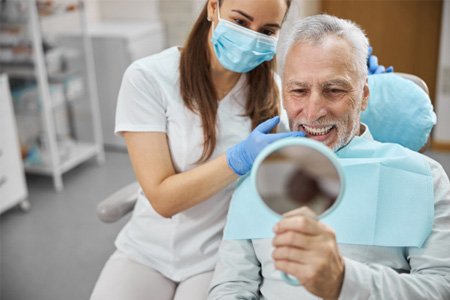 It'll take about 3 to 6 months for the implants to fuse with the jawbone via a natural process called osseointegration. This is what allows your implant to have a sturdy foundation so your replacement teeth can stay firmly in place. Once you're done recovering, you'll return to our office to receive a metal abutment. It's connected to your implant post, which is a special fixture to secure your restoration.
Delivery of Dental Implant Restorations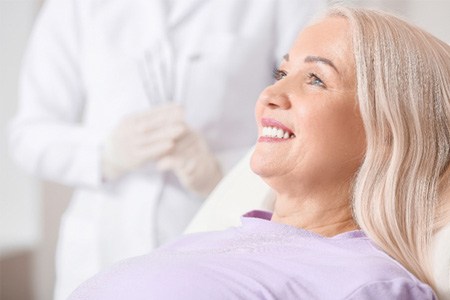 After your mouth has healed, you'll return to our dental office to have your new crown, bridge, or denture attached to your posts. Your replacement teeth are carefully crafted to match the appearance of your remaining ones to look natural. It is made from strong- durable material to give you lasting results. Before you leave the office, we'll make sure your bite is comfortable and polished. You'll be ready to enjoy the benefits of your fully restored smile!
Benefits of Dental Implants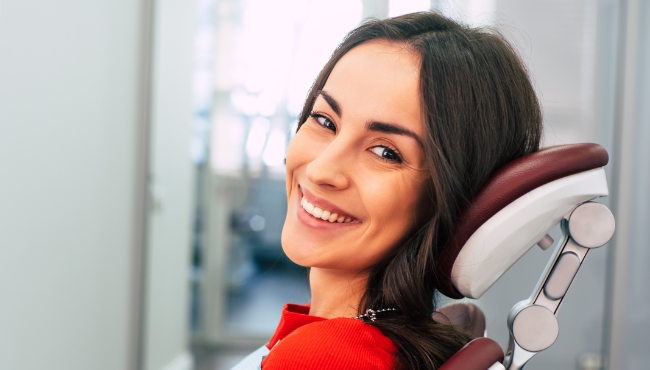 If you need an effective tooth replacement option, then dental implants are one of the best treatments out there. They provide the ultimate support for patients who are missing one, several, or even an entire arch of teeth. By embedding titanium posts directly into your jawbone, our team can provide you with many benefits that you won't get with other restorations, like dentures and dental bridges. Keep reading or schedule a consultation with us today if you'd like to know more about the lifelong benefits of dental implants in Fort Worth!
Day-to-Day Benefits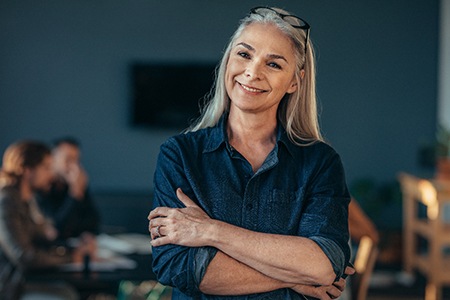 We use our teeth for various things throughout the day such as eating, speaking, and smiling. With dental implants, you'll have a tooth-replacement solution that won't limit your daily oral habits. You can expect to enjoy the following day-to-day benefits:
Restored ability to eat most foods: Dental implants are uniquely designed to replace an entire missing tooth from the root up. They're also significantly more stable than dentures or bridges, meaning they can withstand the excessive pressure from chewing.
Easy maintenance: Your dental implants will look and feel like your natural pearly whites, and they won't require any special care to preserve them. You'll simply have to maintain good dental hygiene and visit your dentist routinely to ensure your new smile stays healthy.
Improved confidence: After your dental implants are successfully bonded to your jawbone, they'll serve as your new permanent teeth! You can feel more confident when eating, talking, and smiling in the long run.
Health Benefits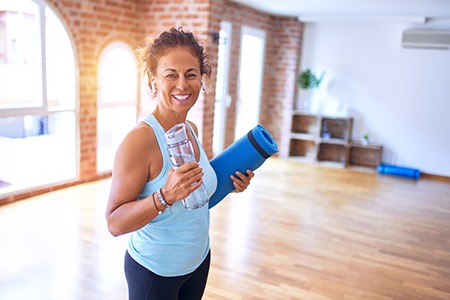 Not only do dental implants enhance the appearance of your smile, but they also offer several health benefits that you can appreciate for a lifetime. These advantages include:
Enhanced stability: By anchoring your restorations directly to your jawbone, your dental implants can provide the necessary stability for chewing most foods. You'll be able to munch on all your favorite meals with ease!
Preserves the jawbone: Dental implants serve as your new roots, which stimulate healthy jawbone tissue. This will preserve your facial structure and help avoid bone loss in the process.
Boosts overall health: Having missing teeth can increase your risk of further tooth loss as well as other serious health issues. Replacing your pearly whites with dental implants means you can effectively maintain your smile while preventing problems like diabetes, gum disease, and heart disease.
Long-Term Benefits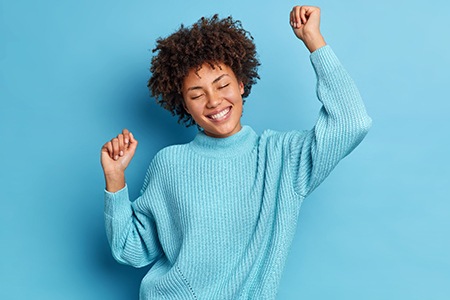 You can also expect to enjoy the following long-term benefits by choosing to get dental implants in Fort Worth:
High success rate: About 95% of dental implant procedures are successful, even 20 years after being placed in the jawbone.
Extended longevity: Dental implants can last several decades without the need for replacements. For this reason, they're considered one of the most permanent options for missing teeth.
Youthful appearance: By serving as your new roots, dental implants will stimulate your jawbone and avoid facial changes that can cause a shrunken or aged appearance. You'll be able to enjoy a stronger and more youthful smile for many years to come!
Indications of Dental Implants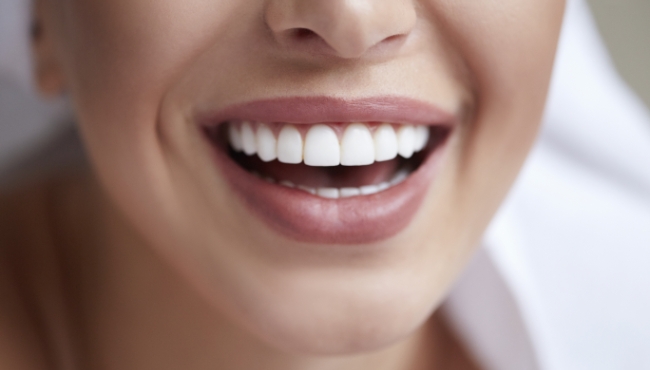 Dental implants have the ability to help patients in a variety of unique situations, but some patients may require preparatory procedures before they can carry on with their implant placement. When Dr. Drennan examines your mouth, he'll be able to create a customized treatment timeline for you and walk you through it so you know exactly what to expect.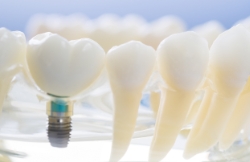 Missing One Tooth
If you're missing a single tooth, we'll place one dental implant in the gap of your smile and wait for your gums to heal around it. Then, we'll secure an abutment and a custom-crafted dental crown that's created to match your surrounding teeth, making it virtually impossible to tell that you ever had a gap there in the first place.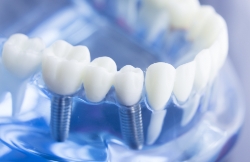 Missing Multiple Teeth
If you're missing several consecutive teeth, or if you have gaps spread out through your entire arch, we can use an implant-retained bridge or partial denture to replace them. Depending on the restoration used, we can attach them to two or more dental implants to complete your smile.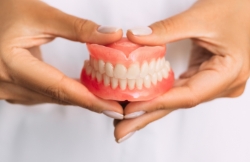 Missing All of Your Teeth
For our patients who are missing all of their teeth, we'll likely place anywhere from four to eight dental implants along an arch of your teeth to secure your customized denture and continue providing your jawbone with stimulation. Because they don't rely on natural suction to stay in place, you won't have to worry about any slipping or shifting, like you may with traditional dentures.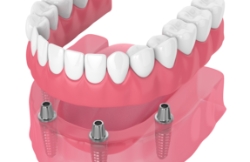 All-on-4/ Teeth-in-a-Day
Our patients who are ready to begin enjoying their smile as soon as possible can benefit from our All-on-4 procedure. This streamlined process eliminates the need to spend months without your restorations by providing you with a denture immediately after your implant surgery and replacing it with your permanent one once your gums have completely healed.
Understanding the Cost of Dental Implants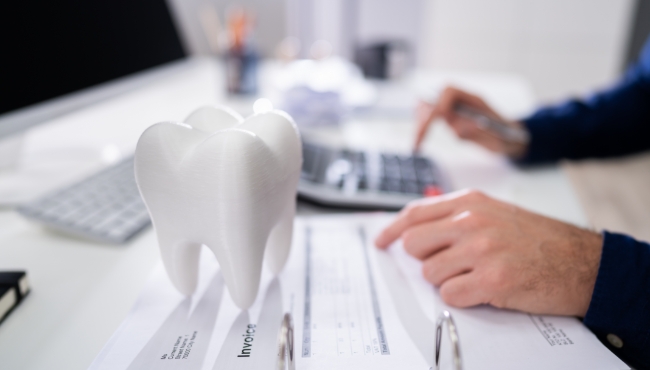 Since the dental implant procedure is customized to fit your unique smile, the only way to determine the cost of your treatment is by examining your mouth. Once we do this, we'll review several factors that we use to calculate the final price tag, such as the number of posts you'll need and the locations within your mouth. A great benefit about dental implants is that although they have a higher overall cost, they're easier to financially plan for because it can be split up over the course of several separate appointments—not to mention, implants are very cost-effective in the long run.
Preliminary Treatments & Dental Implant Surgery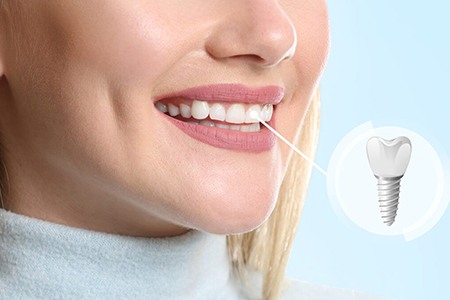 In some cases, a patient might require a certain preliminary procedure before they're able to undergo dental implant surgery. Needless to say, this can certainly affect the overall cost of care since it's adding extra steps to the process! These treatments often include things like dental bone grafts, gum disease therapy, and tooth extractions. However, while they do contribute to your total bill, these treatments ultimately ensure that your dental implants will serve you well for a long time. As for the actual implant surgery, the amount you'll pay is typically affected by variables like the location of the surgical site, the number of implants being placed, and the type of sedation being used.
The Parts of Your Dental Implants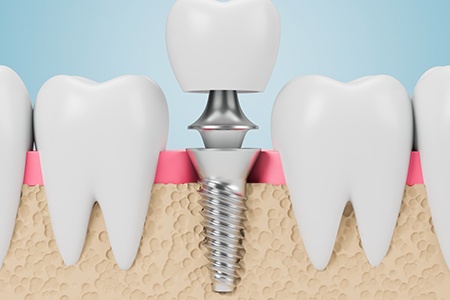 The overall cost of implants is also affected by:
Number of Implants – It takes just one implant to replace a single tooth, two implants to replace a row of teeth, and four or more to replace an entire missing arch.
Material – Implants are sometimes made from zirconia instead of titanium, which affects the overall cost.
Brand – There are various implant manufacturers to meet the variety of needs that exist among dental patients. Feel free to ask us about what brand you're receiving as well as any brand-specific benefits!
Type of Restoration – Crowns, bridges, and dentures all have different costs, even though they're all used with implants. Smaller restorations are typically less expensive than larger ones.
How Dental Implants Can Save You Money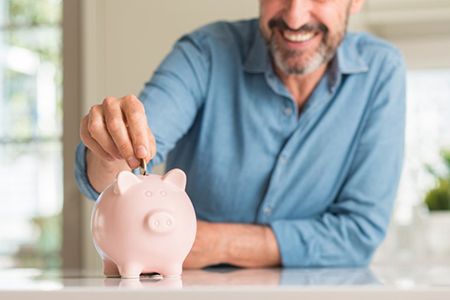 It might be tempting to want to save money by choosing traditional dentures or bridges over implants, since they're cheaper. But even though dental implants have a higher up-front cost than other tooth-restoration solutions, they actually save you quite a bit of money down the road. With dental implants, you don't have to pay for a replacement every 5 to 10 years like you would for dentures or bridges. You also don't need to worry about purchasing special cleaning solutions or tools for your implants, as they don't require any specialized care or maintenance. And since this means they're relatively easy to care for, they can also help you keep a clean and healthy mouth and avoid issues like gum disease or tooth decay that might require costly treatment in the future.
Does My Dental Insurance Cover Dental Implants?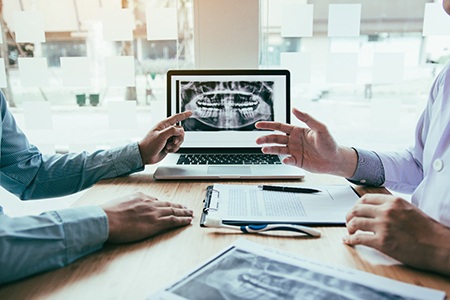 Most insurance plans do not outright pay for the actual implants, though there are a few exceptions. It's possible that parts of the final restoration, or sometimes certain preliminary procedures, could be at least partially covered, but it will depend on the details of your plan. Our team would be happy to sit down with you and review the specifics of your coverage so that you can rest assured you're taking full advantage of your benefits.
Dental Implant Failure & Salvage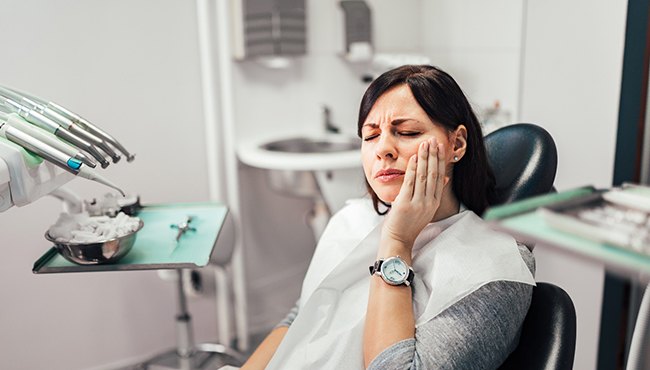 Dental implants work really well – about 95% of the time, even after 10 years! But sometimes, they might not work as expected. If your new smile starts feeling strange or you're worried about your implants, call us right away. We might be able to fix any underlying issues with a treatment plan designed to save your dental implants and keep your smile shining.
Learn More About Dental Implant Failure & Salvage
Maintaining & Caring for Your Dental Implants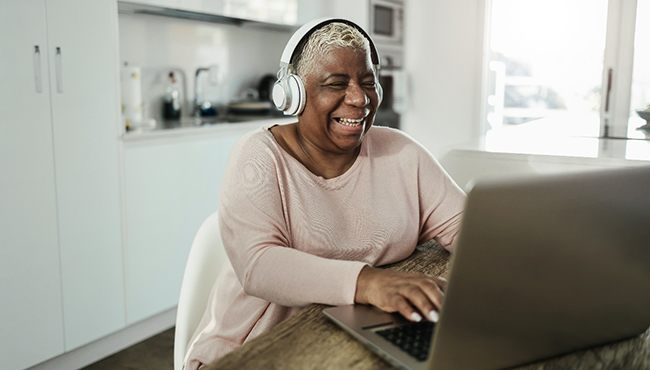 After investing your time and money into restoring your smile with dental implants, it makes sense that you'd want to do everything in your power to preserve them so they can last a lifetime. By following the care tips that our team provided below, you may be able to continue enjoying your dental implants for 30+ years, which would allow you to get the most out of your investment. If you ever have any questions or concerns about dental implant care in Fort Worth, never hesitate to give our team a call.
Make Oral Hygiene a Priority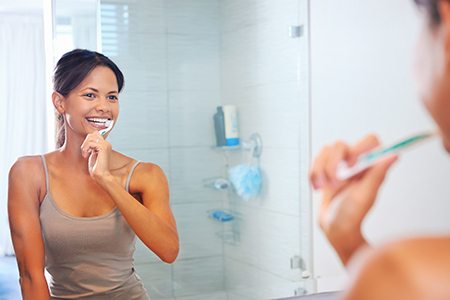 Just like with your natural teeth, it's crucial to maintain a good at-home oral hygiene routine to prevent plaque and tartar accumulation that could lead to common oral health problems like gum disease that could jeopardize your new replacement teeth. Be sure to brush twice each day with a soft bristled toothbrush, floss at least once a day, and rinse your mouth daily with alcohol-free mouthwash.
Eat a Balanced Diet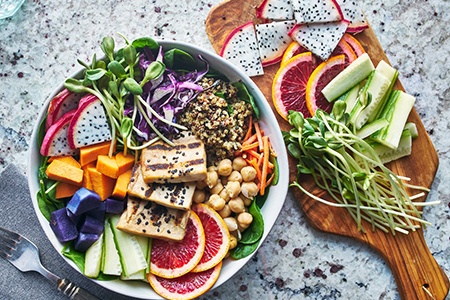 Harmful oral bacteria love feeding off of carbohydrates and sugars, which is why it's important to maintain a balanced diet that isn't too heavy on processed foods and sweets. Instead of having one go-to snack like chips, try substituting them out every once in awhile for fresh celery sticks and ranch dressing or other fresh fruits and vegetables.
Break Bad Habits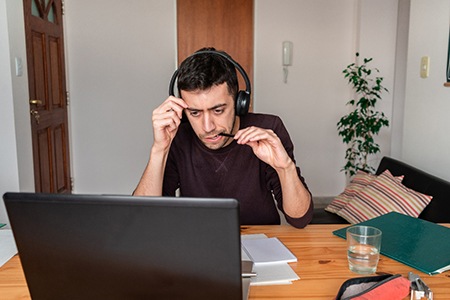 Do you chew on ice or the tip of your pen? These types of habits can put your replacement teeth at risk of becoming damaged or your dental implants in Fort Worth becoming loose. Try substituting these habits out for other, healthier mechanisms that don't involve using your new replacement teeth, like squeezing a stress ball!
Protect Your Dental Implants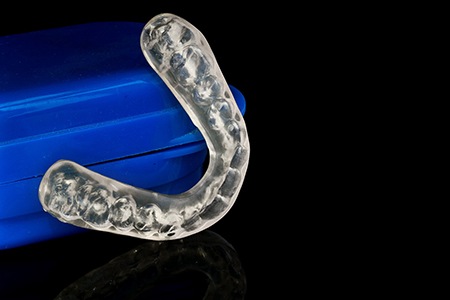 Do you play contact sports or grind and clench your teeth at night? It's important to protect your dental implants and restorations from force and trauma and the best way to do that is with customized nightguards or athletic mouthguards made from a cushioning acrylic. These will drastically minimize the chances of accidentally damaging a restoration or causing a dental implant to become loose.
Schedule Regular Checkups & Cleanings
Routine checkups and cleanings with your implant dentist in Fort Worth are crucial to the continued health of your restored smile. During these visits, Dr. Drennan will take X-rays and conduct a thorough visual examination of your mouth to make sure your dental implants and gums are healthy. Then, one of our dental hygienists will thoroughly clear away all plaque and tartar from the surface of your teeth and polish and floss them.
Dental Implants Post-Op Instructions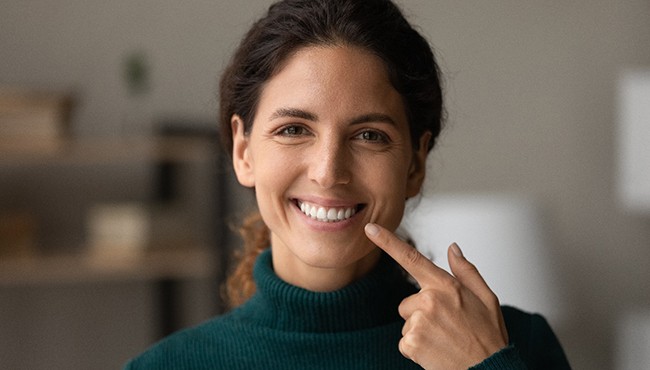 As far as oral surgeries go, dental implant placement is relatively simple. Nevertheless, you will still need to give your mouth time to heal after the procedure. Our team can give you detailed guidelines on what to do after receiving your dental implant posts so that you can stay comfortable and avoid any issues. You can find some basic instructions listed below, but we may give you additional tips depending on the specifics of your case.
What to Do Directly After Dental Implant Surgery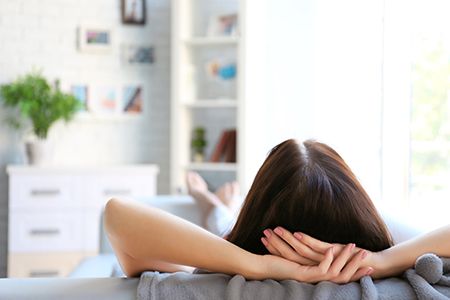 Most patients need at least 24 hours of rest after they receive their dental implants. During this time, your main focus should be making sure that the blood clot around the implant site isn't disturbed. Do not drink from a straw; the suction could pull the blood clot out of place. You should also avoid spitting for the time being. If you have any saliva that you need to get rid of, use a tissue. Finally, keep your tongue and your fingers away from the area where the implant post is located.
Common Side Effects When Recovering from Dental Implant Placement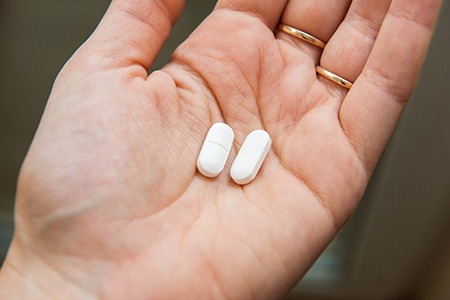 Your mouth may be sore for a few days after your surgery, there might be some swelling in your gums, and bleeding could occur every once in a while. These symptoms are generally nothing to worry about, although you should call us if they last longer than expected. You can manage your side effects with the following tips:
Take any medication you were prescribed. Over-the-counter pain relievers can also help.
If bleeding occurs, gently press down on the area with some gauze until it stops.
A cold compress can help with swelling, but avoid using it for more than 15 minutes at a time.
Your Diet After Dental Implant Surgery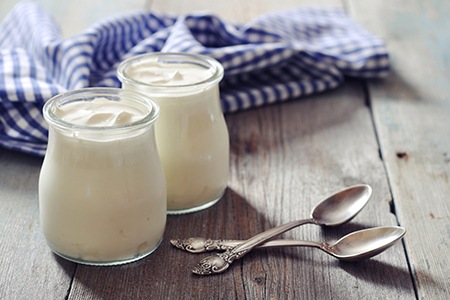 It's not a good idea to try to force yourself to eat hard foods after your procedure. Instead, stock up on softer options like yogurt, scrambled eggs, and pasta. You should stay away from hot soups, but cold soups should be okay as long as they aren't too chunky.
Post-Op Health & Oral Hygiene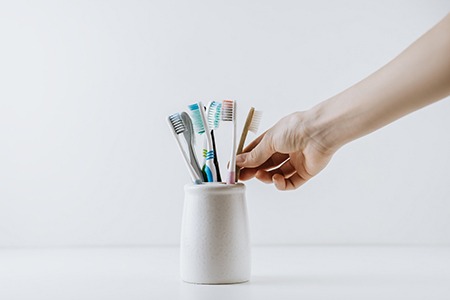 Oral infections can lead to dental implant failure, so you need to do everything you can to keep your mouth clean and free of bacteria during the healing process. Stick to your normal brushing routine, and don't forget to be gentle around your implant posts. Take the time to rinse with salt water two or three times a day; for the best results, try rinsing after every meal.
What to Do After Your New Teeth Are Attached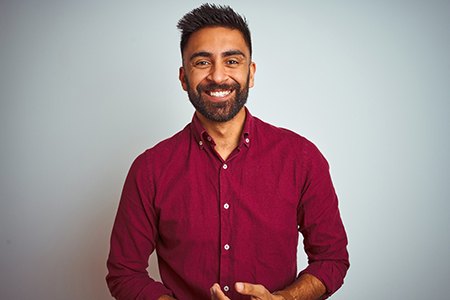 You'll receive your final restoration long after your dental implants have successfully fused with your jaw. The only real side effect that you should notice at this point is some slight sensitivity (which you can control with pain relievers). Contact us immediately if there are any unexpected symptoms like bleeding.
Dental Implants FAQs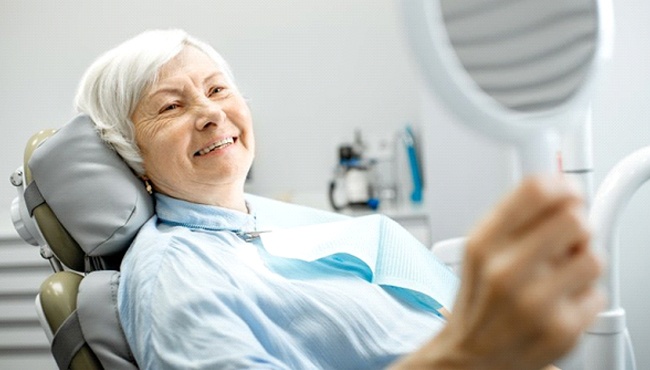 Whether you're missing only one pearly white or a whole mouthful, dental implants in Ft. Worth are by far the most comprehensive and beneficial method of rebuilding your smile after you've suffered from tooth loss. As they've become more popular in recent years, however, more questions and concerns about the treatment are cropping up. To make the process easier for you, your implant dentist has answered a few frequently asked questions about dental implants in the section below.
Can Dental Implants Replace Front Teeth?
Absolutely! Dental implants can be used to replace lost teeth no matter where in the mouth they were located. Each implant is topped with a lifelike restoration. Whether yours is a crown, bridge, or denture, it will be designed with the rest of your smile in mind. Impressions are taken of any of your remaining teeth, and we'll take several other aspects of your appearance into account, such as your skin tone, age, and face shape, when creating your restoration. Once your new teeth have been placed, the only people who should be able to tell that they're not natural are the members of our dental team!
Does Dental Insurance Cover the Cost of Implants?
Unfortunately, many dental insurance carriers consider implants to be a purely cosmetic procedure, so they don't often cover the cost. The good news, however, is that more and more insurance companies are beginning to realize the oral health benefits of dental implants and are starting to offer coverage. Our practice is happy to accept many different forms of dental insurance. We will even gladly handle the paperwork for you and assist you in maximizing whatever benefits you may have available.
It's also worth mentioning that even if your insurance won't pay for the implants themselves, it may mitigate the cost of other aspects of the treatment, such as your restoration or any preliminary procedures you might require.
How Long Does the Dental Implant Process Take?
Getting dental implants can take anywhere from a few months to a year or even longer. The length of the process varies from patient to patient because everyone has different oral health needs. Some patients require preparatory work, such as bone grafting or gum disease treatment, before implants can be placed. This can add several weeks or months to your total treatment time. Additionally, it takes an average of three to six months for the implant posts to fuse with your jawbone before we can place the restoration. During your consultation, we can lay out a more detailed, personalized treatment timeline for you.
I Currently Have a Denture. Can It Be Combined with Dental Implants?
While the denture itself will not be combined with implants, we can provide you with a new and improved denture that will be held in place with these titanium posts. This provides a sturdy foundation for your new teeth, preventing the embarrassing slipping and gum irritation that are common with traditional dentures. Plus, implant-retained dentures last longer and are generally easier to maintain. If you're dissatisfied with your current denture, call us today and ask if an implant-supported denture is right for you!