Implant Dentures – Fort Worth, TX
Boosted Confidence. Improved Appearance. Permanent Smile.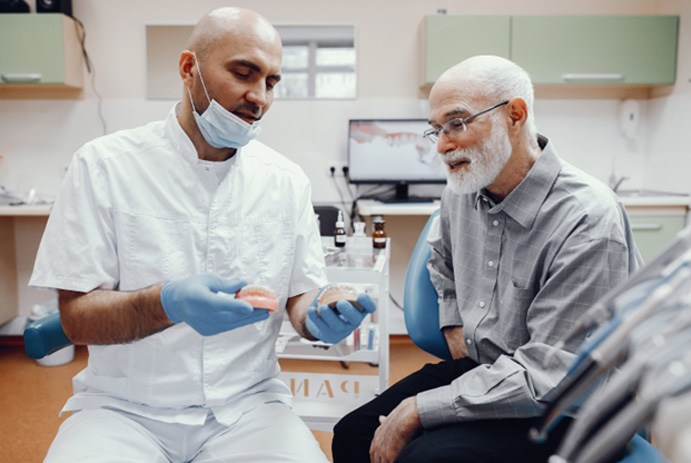 After losing an entire arch of teeth, you may feel as if the smile you once wore will remain only in the past. Attempting to live life with the same kind of confidence becomes more difficult. But with implant dentures in Fort Worth by Drennan Family Dentistry, these prosthetics can restore your appearance, your self-confidence, and your smile. Call us to schedule a consultation to find out how you can get started with implant dentures.
Why Choose Drennan Family Dentistry
for Implant Dentures
We Partner with a Network of Implant Specialists
High-Quality, Natural-Looking Materials Used
Dental Insurance is Welcome
What Are Implant Dentures?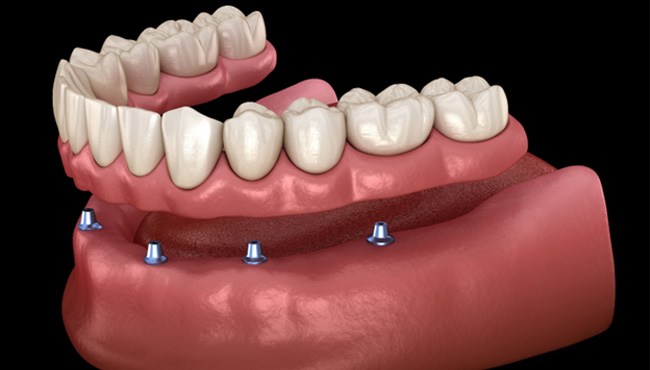 Made of titanium and placed within the jawbone, implant dentures are known to be the only prosthetic that can restore a tooth's root-to-crown structure. Instead of focusing solely on the visible components of your smile, these posts work just like regular teeth, allowing you to eat and speak with ease while also smiling with better confidence.
As part of any dental implant process, you'll need to schedule an appointment with our team to determine how you should plan to move forward. It is during this visit that you will learn the different types of implant dentures that are available:
Fixed/Permanent Implant Dentures
Capable of being removed only by a skilled implant dentist, a fixed implant denture requires between four and six dental implant posts and a dense jawbone. Highly effective in creating a more permanent smile, you can easily maintain good oral hygiene and avoid unnecessary denture adhesives to hold teeth in place.
Removable Implant Dentures
A removable denture, also known as a "Snap-On denture," needs only 2-5 posts and less jawbone density. Using only the densest areas of your jawbone, an implant dentist can surgically place each post before a customized denture is applied to the top. With proper instructions, you can easily remove your prosthesis when it's time to care for your smile.
The Implant Denture Process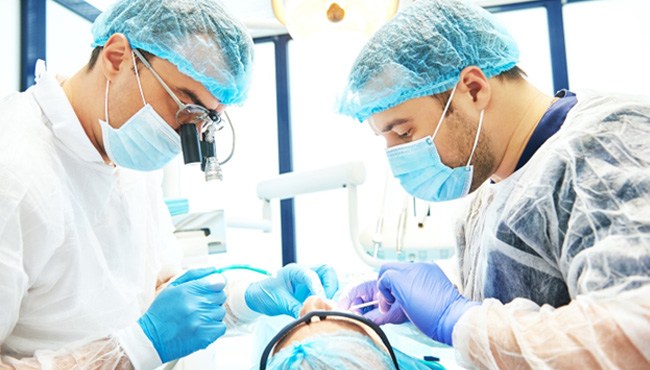 From the consultation to the final placement of your restoration, the implant denture process requires patience. It is not a quick and easy process, as several steps must occur that can take months to complete.
If you're looking to gain a better understanding of what is included in the placement of implant dentures, here is a brief breakdown:
Initial Consultation – You will meet with our dentist to discuss how best to move forward with implant dentures. You may be required to undergo preliminary care if your mouth shows evidence of gum disease, jawbone weakening, or tooth decay.
Dental Implant Surgery – Once cleared, you'll meet with a local specialist who will place each of your implants appropriately before placing healing caps over each one.
Osseointegration/Abutments – Osseointegration must occur during the recovery phase, as this ensures that the bone and implant fuse to create a solid base. When finally healed, you'll have metal abutments, which are small connectors that attach the implant to the restoration, put into place.
Final Restoration – When everything else is complete, the only thing left to do is to attach your customized implant denture. Secured to the tops of your posts, this device will allow you to eat, speak, smile, and live life better than before.
Am I a Candidate for Implant Dentures?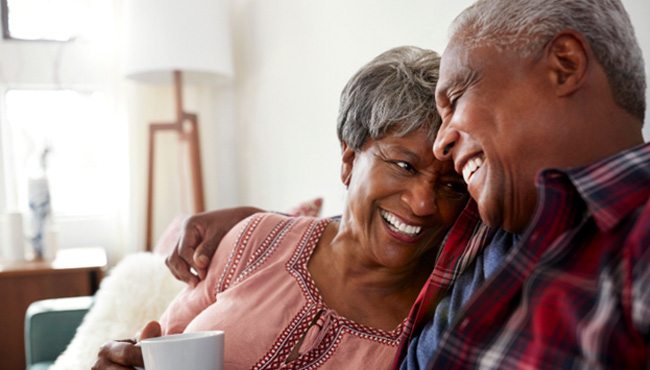 If you want to find out whether you are a candidate for implant dentures, you'll need to schedule a consultation with our team at Drennan Family Dentistry. We'll evaluate your oral and overall health, and we'll look at your jawbone density. It is our goal to ensure that you get the care you need instead of settling for something that you do not prefer.
Benefits of Combining Dentures & Dental Implants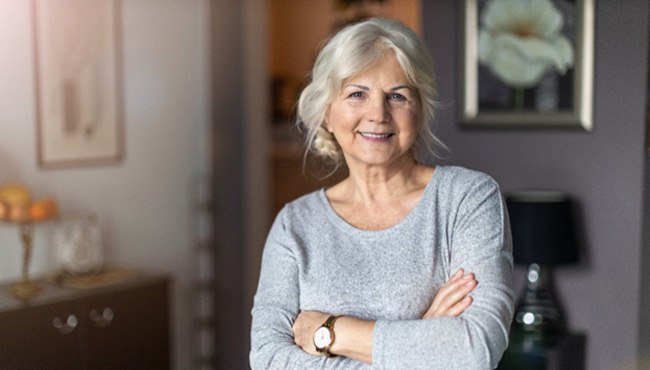 Combining dentures and dental implants may not sound like a good idea, but the truth is that they offer patients far more than traditional tooth replacement methods. Additional benefits include:
Prosthetics that can last a lifetime with the right and appropriate care
The ability to eat delicious foods and enjoy their taste as well as the assurance of knowing your teeth won't fall out of place
Speaking clearly so that when surrounded by others, you do not feel embarrassed
Your jawbone receives continuous stimulation from the implant posts, which helps to prevent facial collapse
Optimal confidence knowing that your teeth will not fall out as you try to eat among family and friends